Do you love leggings? I do! They are so comfortable, easy to throw on with an over-sized sweater, shirt, or a belted dress. One thing to note: leggings are meant to be worn UNDER something, i.e. your hind parts should not be protruding out for the world to see unless you're in aerobics class or at the gym. Disclaimer: this rule only applies to everyday women, this does not apply to size zero celebrities and super models…and we my friends are everyday women who have to look appropriate in the real world.
So now that we have the rules of wearing leggings established, let's talk about getting the right pair to give you a nice shape and what to wear them with. In my Bali 7 Day challenge run, I have worn the Bali Invisible Firm Control leggings on two occasions. Not only do they offer support, but they smooth out all the lumps = WIN!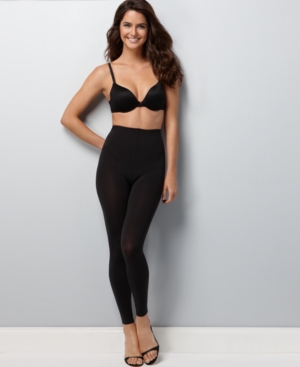 Bali Leggings on sale at Macy's
Here are some stylish tunics you can wear with your leggings:
Tunics 1 by STYLEMOM. featuring sequin tops
Tunics for Leggins by STYLEMOM. featuring a short sleeve tunic
You too can get the look with a pair of Bali leggings!
We're giving away 10 Bali Gift Bags to STYLEMOM.com readers!! Woot woot!!
Gift Bags include:


Lush Bath ball
Bali Powershape Legging (double pack!)
Bali branded cosmetic mirror
Enter by becoming a fan and liking our Facebook Page and leave a comment below and tell us how you would style your leggings!
Contest Rules: Open to U.S. Residents only. Must be at least 18 years old. Contest runs from 3pm EST Wed. November 3rd, 2010 and ends Wed Nov 10th at 11:59pm EST. All winners will be randomly selected by electronic selector. No Purchase Necessary. By entering this contest you agree that your entry comment can be used on Stylemom.com and Bali's social media channels (blog, twitter, facebook).
Advertorial: The Bali 7 Day Challenge series is sponsored by Bali Shapewear
**11.20.10 Congratulations to our Winners!!
Lydia
Shannon
Sandra Hicks
Yum Yucky
Christina Jones
Elena Adams
Yaya
Lisa
Nichelle G
Diane Danielson